When I was getting ready for the UK trip, I was given a list of items to bring for the class. In addition, as I did the homework, there were other items which made my stitching easier. Then came the issue - how best to carry them. Considering the weight limits, taking my usual stitching box was not an option.
I have a couple plastic "organizer" boxes from the office supply store - the 6" x 8" x 2" size. Since this would be good protection and light weight it made a good choice. Next to go in were the silks that we had been provided with for the stitching. What was left were necessary items - scissors (NOT my best but still quality): 2 pair - one for embroidery and one for cutting metal threads, needles: they sent a tapestry needle (24) and a gold embroidery needle, but when doing the embroidery I found that it was easier to have different needles going for different colors. I also found myself using a couple straight pins and a needle threader. So obviously I needed some sort of needlecase.
I've been eying some of the Hussifs and thinking about making one in the encrusted crazy quilting, but not something to be done on deadline. In looking at the CQMagOnline.com site, there was a pattern for making a fan style crazy quilt patch. Hmmmm. I like fans. Hmmmmm.
In looking at the fan pattern, I
saw
a double scissor case with built in needlecase. So out came the nice wool felts, some cotton and wool threads and here is the result.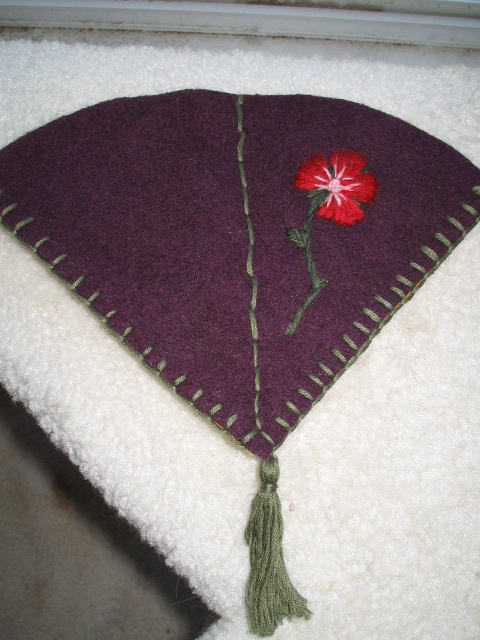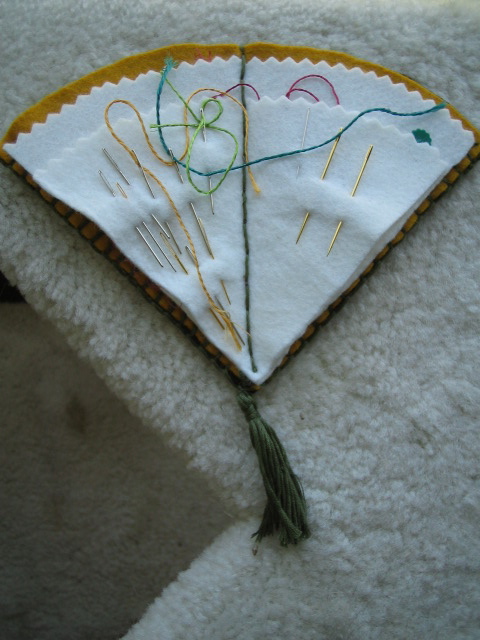 I started with a 1/4 circle that was 5 1/4" on the straight sides. It worked well even when stuffed full. I may add ribbons to tie it shut, but otherwise I am well pleased with the experiment.
A couple of the ladies in the class asked if they could "teach" my project at their shop. The answer is of course yes with proper attribution. Enjoy!
If you are interested, I also popped a thimble (their request), a pair of tweezers, bees wax rose, and ruler in my travel case for the class.