Some of you know that
Sharon Boggins
is coming to the US next year. HURRAH! Our SF Bay Area will be one of her stops. To ensure that anyone who wants to take her classes has the necessary prerequisites, the shop
Always Quilting
and I are putting on a CQ Retreat weekend. The shop wanted something to display so I worked madly and put together the front panel for a hussif (Victorian sewing roll). It still needs some more embellishment, but I didn't want the example to be tooooooo challenging to newbie CQ people. So consider these to be "in process" pics. The piece is set for a finished size of 25" long and 8" wide.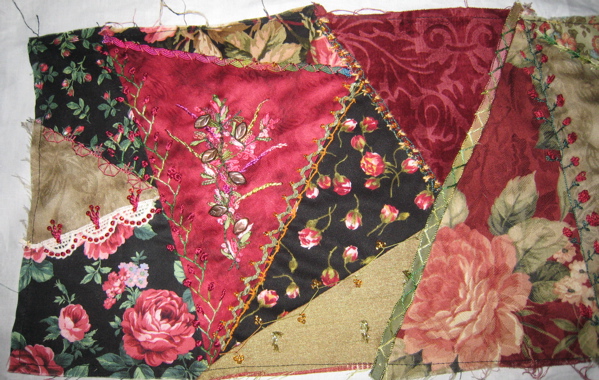 Next up, is to do 4 to 6 blocks - 8" blocks with the set of agreed upon stitches. I have 3 patterns the shop made in their EQ6 program from which I'll make card pattern pieces. Since we will give these to the students, I had better test them out first. Then I'll do a couple blocks freeform. The shop also gave me an advance pack of fat quarters for the new Kaufman fabrics designed by Judith Montano Baker. I also purchased some silks from the JMB collection from Treenway silks. I have some additional threads I'll probably add in, but at least the base will have a predetermined set of color matches.
In case anyone is wondering, I do my CQ embroidering using Qsnaps. I find that they work better on square/rectangular things. I like being able to see all/most of what I am working on to avoid working myself into a corner/block.
However, I can't get started on the blocks until next week. We are off this weekend to an invitational only tournament. It promises to be hot - 90-100 all weekend (nights in the mid-60's). Haven't figured what project I'll take with me. The site has a red clay dirt so I don't think I'll take the lace (LOL). I have some alpaca in a reddish color - the whole fleece, that needs spinning so maybe that will be an idea. For now, off to finish the 2nd chair cover and to unearth ALL the banners -- 2 for the pavilion, 2 for the field decoration poles, 2 for the feast hall. Wish we had a new gambeson and fighting over tunic for Will. Oh well, next time.