Whew!!! Stopping for a quick break to fulfill the promise made a few posts ago.
For June Crown I made lanyards on some awls as thank-yous to the ladies who did the embroidery for the Kneeling Carpets. Each is done on the muradai rather than fingerloop braiding. I could get a more even tension and it gave me practice for kumihimo.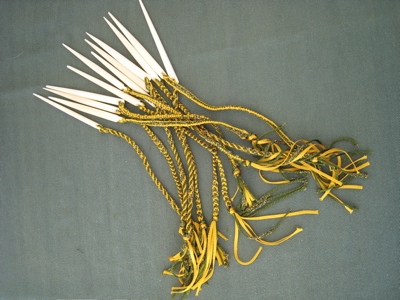 As a gift to our current Queen, Kaaren, some of us did bits of embroidery to go on her persian coat. I was assigned a rose. We were given the threads, fabric premarked, and complete discretion on stitches. I did the outlines in stem/outline stitch, filled with chain for the petals, a version of leaf for the leaves, outline for the accents, and beads for the center. I also whipped the outer petals with gold thread. It reads pretty well for a piece approximately 4" in diameter. It must have been okay since it was placed on the center front right panel top -- just under where a belt would be placed.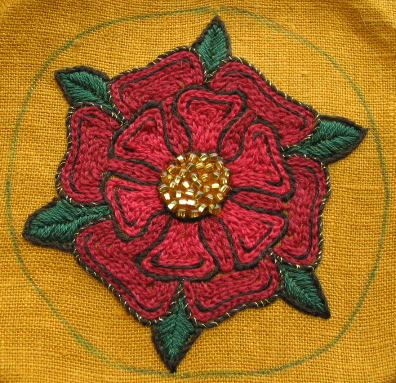 At A&S I turned into Her Majesty Kaaren the gift bag for Pennsic. Our giftee was Atenvelt. I was assured by Their Majesties that the bag would be a point of contention for the recipients (as in which Majesty would get to keep the bag). I can only hope so --- LOL! It is made of heavy blue wool with gold wool applique. It was large enough for a 4" binder. I did the applique accents in black silk. Other accents are in gold and blue wool threads.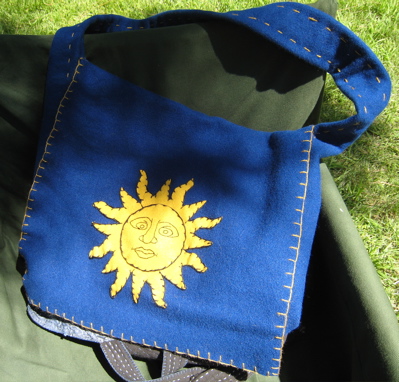 More on my latest project anon.