I know that I've been bad and not blogging a lot lately. Most of my time has been spent juggling clearing out more the of the estate stuff on ebay, craigs list, etc, hearing a few cases, doing the EGA thing at the local and region level, and working on my column. As promised here is the goldwork piece which as been the focus of the last few columns.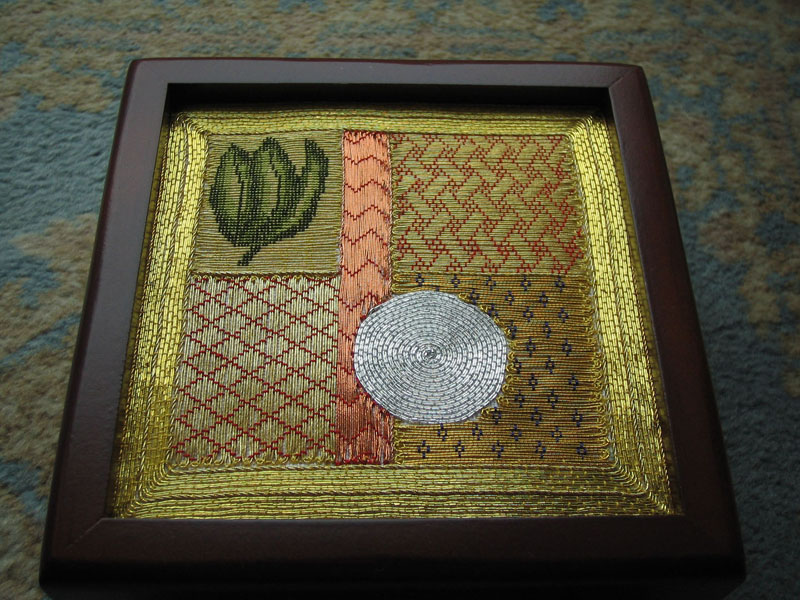 The outline is jap which is brick stitched with an added couple lines of twist. The silver circle is jap - brick circular couched - outside to inside. The copper was supposed to have been undersided, but since I backed the 28ct linen... Upper left panel is the OrNue piece - Needlepoint Inc silks over gold passing. Upper right panel is also gold passing with au ver a soie 100/3 silk in a very renaissance pattern. Lower left is the same with a different pattern. Lower right is jap from a different manufacturer with gold 100/3 for the sides and purple regular au ver a soie for the pattern which is also renaissance in origin.
I learned a lot doing each of the areas. 2 major problems occurred. The first is turning 2 threads - with the 28 ct, even backed, doing the plunge the outside thread DID NOT work cleanly. The second problem is the packing of the threads, especially in the Or Nue section, but you can see my prior post on that issue. One unanticipated problem was that the silver section is too big to my eye now that it is in the box top. It looked fine when the piece was surrounded by white linen.
I am currently working on:
beading the front placket on my 12th Night dress
finishing the project for my next column on gobelin (16th C pincushion)
finishing the german brick stitch piece into a pouch (versus the needlecase in the column)
finishing the pattern darning piece into a box top
finishing a handkerchief with lace inserts - the hem stitching is done (handkerchief linen - about 50 count)
finishing a secret project for a friend
putting together a display on period lace for 12th Night
Plus working on arrangements to bring Jane Nicholas (Stumpwork) to the states in 2007 and Sharon Boggins (Encrusted Crazy Quilting) in 2008. Plus designing a needlework piece to be made into kits for people waiting in hospitals for our wounded servicemen. Plus designing a 1 day workshop or freebie for the 2008 Regional.
Off now to finish planning our holiday party, visit to the relatives, and getting ready for tomorrows SCA event.