How cool is it to spin, dye and knit/weave your own yarn??????? Way cool and lots of fun too!
Okay back to West An Tir War. Bjo Griffin of
Griffin Dye Works
gave a workshop. The idea was to do yellow, red, and blue. The yellow I really don't remember. We started with one light yellow/gold and then redid the pot with a stronger yellow/orange.
The first red was a reused pot from the day before which had been a yellow. The red also was an unknown and the result was both light and muddy. The next red was a cochineal - got to love the bugs. We did a batch plain then with soda ash to make for a more purple red.
The blue was indigo crystals. Because of all the unknowns this form was chosen and worked very well. So here is my batch of fibers -- my own spun wool, 2 weights of wool, 1 she brought, a wool with a mylar thread, silk ribbon, silk - raw, tussah rough, tussah smooth, and floss. Yes some are overdyes and some are dipped into 2 pots.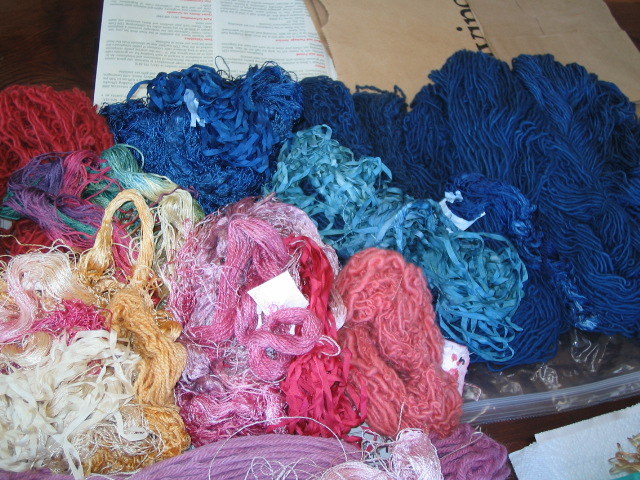 Bjo left the bugs for me and another lady to take and use. I brought mine home and did another pot of red. This pot was a bit light and shows the result of having been in contact with the soda ash. After washing the them out, I clipped them up on a tomato trellis to dry. I left them out overnight. I found them strewn across the yard. Guess the birds and other wild animals had fun playing with the wool. They left the silk. Hmmmm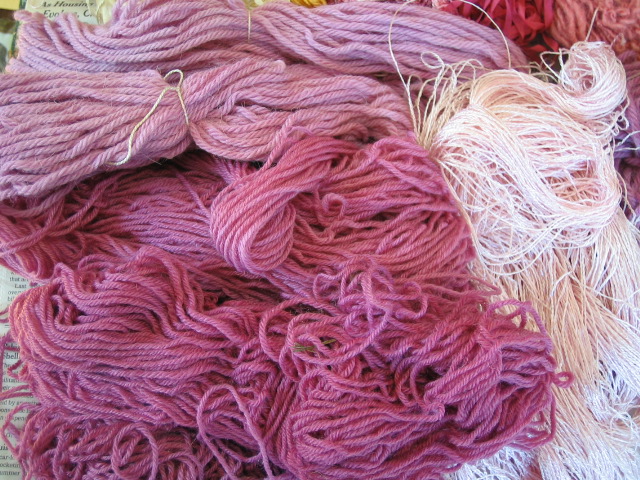 The next day I reheated the dye pot and overdyed some commercial cotton floss. The white and ecru took a little of the dye. The greens browned nicely, but so did the yellows. The grays became almost maroon. The bright blue became a wonderful rice blue.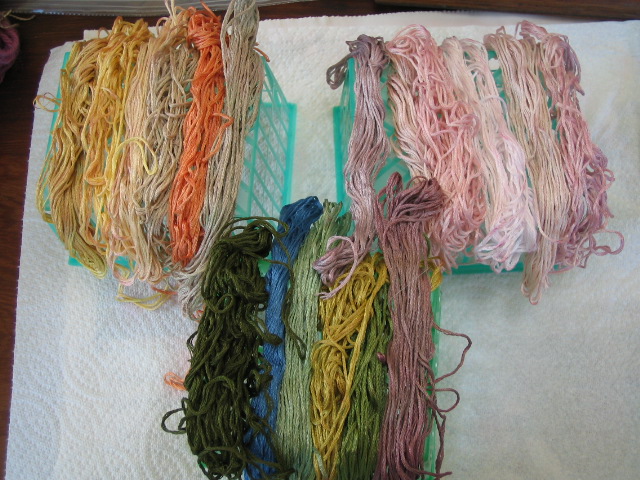 So now I have more stash. I am thinking that my homespun needs to become a knitting or naalbinding project. We shall see. I have the lighter red, a cochineal red, and an indigo. However, now is not the time to play unfortunately. I need to prep for Purgatorio and the ceremony :) and then Louisville.