Feel like I've been running fast for ever!! whew!
First Happy New Year - yes it is time for the Jewish New Year -- that time between times. For those not familiar with the practice, from New Year's Day/eve until Yom Kippur you are to go through a process of spiritual cleansing. If you wronged someone, do what you can to make it right. If you screwed up - ask forgiveness from the source. Forgiveness comes from those you wronged, not GOD. If you can't receive forgiveness directly - acknowledge the problem and pay it forward. Ideally you pay all your bills during this time and remove all debt (mortgages and the like exempted). You also try to look at your priorities and get them back in order. Easy to say and hard to do.
Trying to buy a duplex. It is being a rocky road. Spent the weekend contemplating pulling the plug on the transaction. Using all my mediation training, I asked what was important to me - and to them. I did come up with an answer and have asked my real estate agents to convey the "new" message. We shall see how the other party responds. If no go, we pull the plug.
The Poppy Run -- looked at the wording of the competition information about a month ago, and decided that I did need to enter 8 different competitions to ensure that there was NO question about my qualifying. So spent lots of time researching bone and entered the competition at October Crown. It was fun doing the research. It was smelly boiling all the bones. It was smelly and difficult doing the grinding and sanding. Thanks muchly to the husband for putting up with the delayed meals, overseeing my working with his grown up tools (I never took shop), and running out to get files and blades, and.... Thanks to Cathy for putting up with my taking time away from her visit to write the documentation and to doing ALL the cooking for October Crown. Thanks to Anne for pointing out some more sources for me. Put my meager entry in and - surprised the hell out of me - I won :)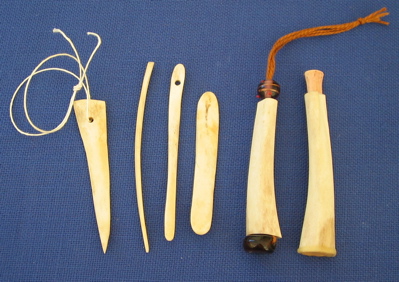 Left to right - pig bone pin, pig bone sewing needle, pig bone naalbinding needle, pig bone seam smoother, 2 turkey leg bone (sorry no goose) needlecases. Didn't get the cardweaving tiles done from the cow bone - ran out of time.
So for those keeping track -- I have 6 wins, 8 competitions, 10 entries. It also looks like I am the only one to complete the "run" this year. If so, then at 12th Night I will step up as Kingdom Artisan - an office, loosely defined, and doesn't come with a pavilion (per the husband - no more offices with pavilions that have to be hauled around and set up).
Really enjoyed October Crown. Lots of merchants since the An Tir merchants were stopping on their way to Great Western War. The fighting was really good and fun to watch. The Eric party was fun. After we had our dinner party, Cathy and I toured around for a bit.
Been selling lots of stuff through Amazon - books, videos, etc. It is not top dollar, but it is easy and not terribly time consuming. The extra money helps too - lets me buy more books :)
Signed up for the 5 day Goldwork class through the RSN in Perry Iowa in April 2006. Cancelled on the 3 day version this year for the cruise, but doesn't look like cruises are in our future for a bit.
Saturday was very full. First off the Regional meeting for EGA. It seems I'll be stepping up as my chapter's President - in reality co-Pres, but national only recognizes one person. It was either that or disband the chapter after 30 years. Attended the Education meeting and the "region" meeting. Then they had a Teachers Showcase. So put all my bits together in a display case and put together a hand out. About 100 people filed through with the "chapter rep" picking up the handout. Got lots of really good feedback on the Elizabethan Garden -- if I get booked for it I'll need to do a new handout (sigh) since it is 4 years old and the pattern darning pieces (the next Needlepoint Now article).
Never made it home to meet up the husband for the dinner party - it was Fleet week so the Blue Angels were flying over the bridges. No way could I drive the Bay Bridge home, so went across the San Mateo. Stopped for gas and groceries and headed over 92 home. Got most of the way before things came to a complete stop. I expected bad as it is Pumpkin hell through the area, but it was an injury/overturned car accident. Called the husband, did a u-turn and drove back to N-S freeway. Walked the husband through the what I needed for the evening (makeup, costume, jewelry, plus the basket of plateware.....) on the phone and drove to a place in Daly City where my car could sit past midnight and not look conspicuous. Met the husband, finally, for the drive back up through San Francisco since he couldn't come through 92, and back across the Bay Bridge to Oakland. Did my costume change in the car and makeup in the parking lot (sigh).
So 12 hours after I left home, I'm walking to the Lord of the Rings Dinner in Rivendell. It was lovely. The small older wooden hall with large fireplace was completely lit with candles on the tables. We were at a small table of 8 in the corner and could be a bit quieter. Half a bottle of mead, good food, friendly people, some great costumes, and seeing some old friends -- it was a good evening. Picked up my car at midnight and drove home without incident and without breaking the mood. It really felt good to do something different. If you were wondering, I wore a gown I made 20 years ago, but could have come right out of the current production of LoTR - blue velvet, with muslin underdress. I wore a silver torc, long dangling earrings that have glass disks that act like light reflectors on the bottom, and my new coronet. The husband wore his "bastard" houppeland which is a wine cotton damask. Lots of bought costume pieces, especially the jewelry. What was really fascinating, was the fact that most of the people showed no knowledge that there were prior versions of the film, had read the books, or knew of the prior music that had been done.
Off to put more stuff up on Ebay and Amazon. Then need to do my class handout and examples for Collegium this weekend - class is Buttonholes. Been thinking about 12th Night outfits and redoing my website. Always more to do.